Dec 11, 2018 - The Ol Doinyo Lengai, called the Mountain of God by the local Maasai people, is giving off warnings it may soon erupt.
According to Al Jazeera, Ol Doinyo Lengai in Tanzania is now threatening nearby villages and three major sites of early human development.
The previous eruptive phase lasted from June 22, 2011 to July 5, 2014.
The Mountain of God is the only volcano in the world that can erupt natrocarbonatite lava, a highly fluid lava that contains almost no silicon and actually has a viscosity near that of water.
Natrocarbonatite lava is also much cooler than other lavas, being 'only' about 510C compared to temperatures over 1,100C for basaltic lavas.
https://electroverse.net/the-mountain-o ... iveOldPost
https://www.theguardian.com/science/201 ... nt-mayotte
Nov 11, 2018 - 'Magma shift' may have caused mysterious seismic wave event
"Such low frequency rumbles are rare but not unheard of. Scientists have detected them before after glacier calving, landslides and sudden shifts of magma beneath volcanoes. There are no glaciers near Mayotte and an underwater landslide would have been picked up by hydrophones in the surrounding ocean, said Hicks. That leaves a magma shift somewhere under the seabed as the prime culprit.
Hicks believes magma may suddenly have drained from a volcanic chamber about 10 miles under the seafloor near Mayotte, setting off the deep rumble that spread around the world."
https://www.forbes.com/sites/trevornace ... 3fd60f3941
March 2018 - A massive crack suddenly appeared in Kenya, prompting new discussion on the breakup of Africa into two land masses. The crack continues to grow in size as heavy rainfall in Kenya's Narok County exacerbates the kilometer-sized chasm.
The sudden appearance of the crack is related to a regional zone of weakness and broadly associated with the continued breakup of the African continent. The leading hypothesis behind the breakup of the African continent is caused by an underlying superheated plume. This plume is causing Africa to split in two along the eastern edge of the continent.
2.5 to 3 degrees movement of North magnetic pole in the last 18 months. In the neighborhood of 185 miles (or 297km) vroom, vroom.
yesterday - Dec 11, 2018
https://www.eturbonews.com/240174/magni ... ch-islands
A 7.1-magnitude earthquake that was initially reported as a 7.5, struck near the South Sandwich Islands near Antarctica today, December 11, 2015, at 02:26:33 UTC
"Shifting Plates, Shifting Poles, Shifting Paradigms"
Arthur Viterito
https://www.omicsonline.org/open-access ... lXcmqqUxCY
"In a 2016 study I demonstrated that seismic activity along the globe's mid-ocean ridges was highly correlated (0.785) with global temperatures from 1979 through 2015 [1]. An update through 2016 showed a strengthened correlation (0.814) along with the new knowledge that large upticks in mid-ocean seismic activity for 1995-1996 and 2013-2014 preceded the 1997-1998 and 2015-2016 "Super El Nino" episodes by two years [2]. Unfortunately, neither of these studies has received broad acceptance by the climate community as they challenge an accepted canon of climate science. Specifically, the idea that increased flux of oceanic geothermal heat (as indicated by increased seismic activity in these areas) can significantly alter temperature counters the hypothesis that increasing carbon dioxide has been the primary driver of recent global temperature change.
Despite the general "non-acceptance" of this hypothesis, a recent study by Williams [3] links a seemingly unrelated geophysical phenomenon to mid-ocean seismicity; thus a new paradigm may be emerging from this important association. Specifically, Williams shows that the speed at which the North Magnetic Dip Pole (NMDP) moves is highly correlated (r=0.935) with mid-ocean seismic activity"
https://www.omicsonline.org/open-access ... ?aid=80851
__________________________________________________________________________________________________________________________________________________________________________________________________________________________________________________________________________
Decreasing heliosphere strength>increased cosmic rays to solar system>increased cosmic rays to Earth system>increased muons>Increase in undersea geothermal activity>oceans warm>release CO2.
Retrace to...increased muons>internal planetary heating>weaker magnetosphere+mag pole wander(magnets lose strength when heated)>increased cosmic ray intrusion>increased muons>internal planetary heating>weaker magnetosphere>...feedback loop.
Retrace to increased cosmic rays>increased cloud cover>cooler surface temps>greater albedo>cooler surface temps...feedback loop #2.
Throw in volcanic eruptions from muon bombardment for release of internal indigestion and further surface cooling.
Equilibrium...internal planetary heating offset by much cooler surface temps>cooler surface temps overshoot equilibrium via inertia>internal planetary cooling>stronger magnetosphere>decreased cosmic ray intrusion to Earth system>......wait for next GSmax. to further decrease cosmic rays, muons and internal heating...decrease cloud cover...warm surface...wait for next GSMin.
Cycle established for Sunspot cycle and barycentric cycle but it plays havoc on climate.
But it's not quite as "simple" as that. There may be a bigger "problem".
22yr Hale - 2 sunspot cycles where N magnetic and S Magnetic of the Sun takes 11 yrs to flip, then another 11 to flip back to original configuration.
179yr barycentric
1450yr Bond
23,000yr precession
25,800yr plane
100,000yr ice age (when all solar-planetary cycles converge as they are now)
Rather than try to sort through Bond, precession and plane individually, the confluence of them into the 100,000 yr ice age cycle is that "bigger problem".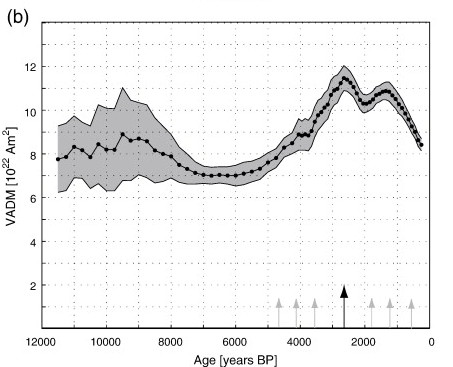 end transmission...-.-