Differential rotational speed of the Sun surface = 11 yr. mag pole reversal & heliosphere weakens. The effects are seen in the sunspot cycle. Sunspots begin a cycle at higher latitudes and move equator-ward. As the cycle progresses, magnetic activity weakens as magnetic field lines go from north/south orientation to east/west orientation and sunspots are less able to form.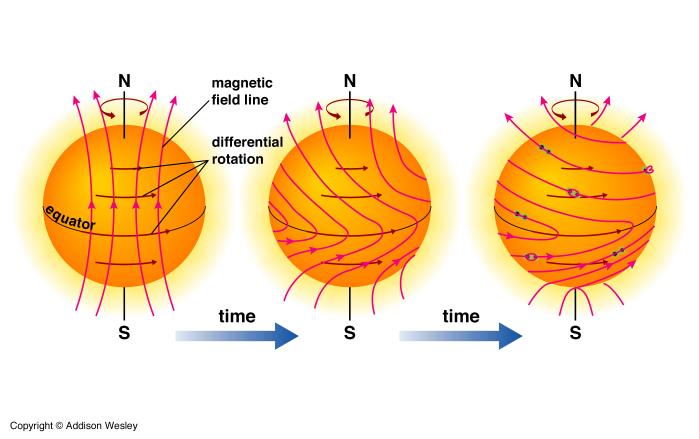 Accelerating differential rotational speed of the Earth's outer core surface = accelerating mag pole reversal on Earth & magnetosphere weakens.
"Deep below our planet's surface a molten jet of iron nearly as hot as the surface of the sun is picking up speed.
This stream of liquid has been discovered for the first time by telltale magnetic field readings 3000 kilometres below North America and Russia taken from space.
The vast jet stream some 420 kilometres wide has trebled in speed since 2000, and is now circulating westwards at between 40 and 45 kilometres per year
deep under Siberia and heading towards beneath Europe (see diagram, below).
That is three times faster than typical speeds of liquid in the outer core.
No one knows yet why the jet has got faster, but the team that discovered the accelerating jet thinks it is a natural phenomenon that dates back as much as a billion years"
"We've known that the liquid core is moving around, but our observations haven't been sufficient until now to see this significant jet."
https://www.newscientist.com/article/21 ... nd-canada/